CALL US TODAY! 321.268.2655 Office Hours: 9am – 6pm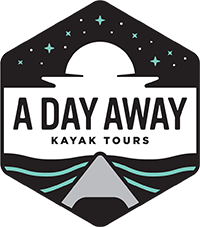 Office Hours: 9am-6pm
Comb Jelly Bioluminescence Tour
In the cooler Florida months, bioluminescent Comb Jellies congregate in the protected waters of the Indian River Lagoon. Living in the most bio-diverse estuary in North America, Comb Jellies are clear, glob-like creatures that, despite their name, do not sting! So as you paddle the calm waters laced with mangroves and palm trees, you can catch and hold these gentle glowing creatures. They're right at your fingertips while having a safe, awe-inspiring kayak adventure with those who share your enthusiasm for new and unique experiences. See for yourself in our
Best Time of Year for Florda Bioluminescent Comb Jellies:
November – May
M-Th $44.95 Per Person
F-Sun $49.95 Per Person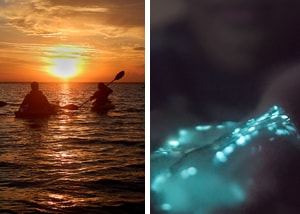 Sunset Bioluminescence Tour
Enjoy dolphin, manatee and the occasional gator in the cool of the day, then join us at Mullethead Island as thousands of birds come to roost with some of the most beautiful sunsets on the planet.
Available Year Round
$60 Per Person
Mondo Combo Bioluminescence Tour
Sometimes you just want it all and it's the right thing to do. This tour is designed to showcase all the best paddling the Merritt Island Wildlife Refuge has to offer in one focused time slot. This is a longer tour lasting approximately three hours based on available wildlife.
Available Year Round
$70 Per Person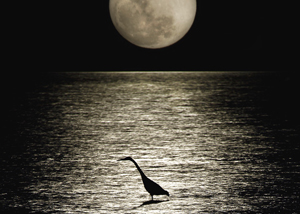 Moonlight Bioluminescence Tours
Let the full moon illuminate your path as you paddle along mangrove shores and shallow waters of the Merritt Island National Wildlife refuge. As the most bio-diverse estuary in North America, thousands of species of birds and animals make their home that we are privileged to respectfully visit. We take you on an informative paddle through mazes and canals, often crossing paths with jumping schools of mullet fish, curious dolphins, and sometimes a sleeping manatee for an unforgettable encounter with nature. After an especially star-studded tour, patrons often say, "Just looking at the night sky was my favorite part! The stars stole the show!" Come explore the calming waters of the only wildlife refuge nestled in the shadow of Kennedy Space Center.
Best Time of Year for Moonlight Bioluminescent Tours:
Available Year Round
M-Th $39.95 Per Person
F-Sun $44.95 Per Person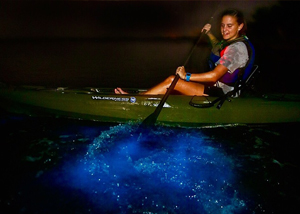 Dinoflagellate Bioluminescence Tour
In the warm and dark lagoon waters on the Space Coast of Florida lies a natural phenomenon of glowing blue waters alive with activity called bioluminescence. The swirling of your hand, every paddle stroke, the darting trails of nearby fish swimming, the torpedo-like aura of a dolphin swimming by all spark the blue that many compare to the "Avatar" or "Life of Pi" movies, and some even recall "those Gatorade commercials" as the gentle plankton leave a trickling glow when holding it in your hands. Being on a wildlife refuge, other wildlife often makes appearances as well! Frequent visitors include manatees, dolphins, herons, other endangered species of birds, and even the occasional gator. Escape with us to the most pure and otherworldly experience that natural Florida has to offer.
Don't just take our word for it, hear what others had to say about our magical bioluminescent tours when they came out with us
.
Best Time of Year for Florida Bioluminescent Dinoflagellates:
June – Early October
Weekdays $44.95 Per Person
Weekends $49.95 Per Person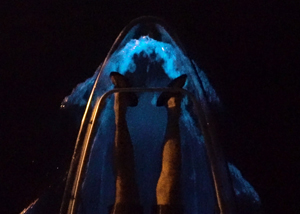 Clear Kayak Bioluminescence Tour
Kayaking is one of the most up-close and personal ways to experience dinoflagellate bioluminescence (dino bio). And with the invent of clear-bottom kayaks, the experience is more immersive than ever! Now you can observe not only the blue swirls off of your paddle, but rushing under your very feet. Every movement below you is illuminated in glowing hues: The momentum of the kayak gives the appearance millions of shooting stars soaring under you, and fish darting under you are like underwater fireworks. And if you're lucky, you may even see a dolphin or manatee glide gracefully under you. Some describe the dino bio as the enchanting twirl of fairy dust, others like the hovering orbs of Pandora. When nature is stranger than fiction, there is nothing more awe-inspiring. You don't have to buy manufactured magic of Orlando, or book a flight to Puerto Rico. The safest yet most enchanting bioluminescent bay experience nature has to offer now envelopes you like never before, no wishing required.
Best Time of Year for Florida Clear Kayak Bioluminescence Tour:
June – Early October
$65 Per Person